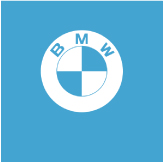 Rear Seat Entertainment
These pictures show the conversion of the very latest hard backed Safety Headrest the BMW now use on most of their range. This conversion does not interfere with the safety system in any way and most importantly maintains a factory look . Prices start from £1000 fully fitted .
Direct Factory Connection Digital TV Tuner
We now stock a wide range of DVB-T Tuner kits that a specific to BMW , the tuner is controlled by the BMW i-Drive system and is equipped with a vehicle specific harness that allows seamless installation which will also allow trace free removal of the components if the vehicle is sold .

Direct iDrive Control
This system is compatable with most BMW models that are equipped with Pro Nav, i-Drive Pro with or without factory TV. Fully intergrated Digital TV Tuners start from £550
Intergrated Bluetooth Kits
At AVS we offer seamless intergrated kits for most of the BMW range . We offer standard kits that work with the factory steering wheel from £230 through to fully intergrated kits that upload your contacts to the cluster and screen .

Front Screen Inputs
Front Screen Inputs & Video in motion harness are available to enable TV picture to be viewed whilst on the move ( passenger use only ). These kits are available for most models in 2011 X5 , X6 & 7 Series

Vehicle Wrapping
We have been vehicle wrapping now for the last 2 years and gained experience on the most awkward vehicles making us …